If we look at the different components of an online business, what do you consider your most valuable access?
For this article, we will consider 5 components of an online business and analyze each's benefits and risks to determine which is the most valuable online asset.
The five components are social media, a podcast, a shopping cart/payment provider, a website, and an email list.
Let's get started and dive into each one.
5 Valuable Online Assets
1. Social media
Social media is important because nothing gets people talking about your business like social media. If you want something to go viral, then share it on social media.
Plus, with social media ads, you can fan the flames and ignite your content to reach more people, generate more awareness about your business, drive more leads, and let people initially get to know you.
Plus, when you consider Facebook groups, you can interact with your audience, ask questions, and figure out how to help your audience even more.
Social media can be a huge asset to your business, but one disadvantage of social media is that you do not own the platform. So, it's great for creating engagement, building community, letting people get to know you, what you do and how you can help them.
You can even post promotional content to sell a product or service on social media. But the fact you do not own your social media channels, for me, is a huge downside.
When analyzing a business, I look for strengths, opportunities for growth, weakness, and potential threats. If we build a social media following and then, for some reason, we lose that page, group, or following, etc., that can be detrimental to our business if social media is the only marketing channel that we have built.
2. Podcast
A podcast can be a magnificent asset for your business. It is inexpensive to start.
Plus, it is one of the best ways to reach out to people that you want to meet and begin developing relationships to collaborate with in the future.
Also, podcasts are wonderful for your audience to get to know you on a deeper level over time. Moreover, so many cars today have podcast players built right into them, so people can listen to your podcast while driving.
Another benefit of a podcast is if you use a service like Lybsin to host your podcast, you can connect to iTunes, Stitcher, Google Play, Spotify, and so many other podcast distribution sources. This is a huge advantage because as people search, they can find your podcast and listen. Having this type of distribution on multiple platforms increases your reach and builds your audience.
If you are looking at earning revenue with a podcast, you can sell advertising or promote affiliate products. Also, you can advertise your products on the podcast. Owning a podcast is one of my favorite marketing channels.
But the downside of a podcast can be controlling the reach and monetizing it. Unless we're selling a commercial or promoting an affiliate product, a podcast can be challenging to monetize. We can direct listeners to Amazon to purchase a book or to another site for some other type of product. But if we're looking at a podcast as our only channel, it can be challenging to monetize, at least until your audience grows.
A podcast is still one of my favorite channels to build an audience.
3. Shopping cart/ payment provider
The purpose of a shopping cart and the payment provider is to process transactions.
The shopping cart is how a business earns money.
My shopping cart is a huge asset for my business. Currently, I use 1ShoppingCart.
This was one of the first online shopping carts, and it is still one of the best. 1ShoppingCart has really good affiliate software that comes with the cart. It offers one and two-tier affiliate links. You can run promotions to pay affiliates for each lead and for each sale they generate.
Plus, creating products is simple, and so is integrating different payment processors. It's super easy to sell subscription products or recurring revenue products. It keeps track of your customers, you export the list, sync transactions with Quickbooks, track what each customer has purchased, their contact details, along with other invaluable benefits.
But if we're looking at a shopping cart as the most valuable resource in our business, I wouldn't say that is true. Many companies only use Stripe or PayPal as their payment provider. Both are easy to set up, can process transactions, and deposit money directly into the bank account.
So a shopping cart is an asset to your business, but it's not critical. I wouldn't consider it the most important component because we can link to other payment processors, charge for products and services, and earn money.
4. Website
A website is one of the most valuable assets, especially if your business is completely online.
A website is the central hub of your online business. It's where you send traffic. It's where people get to know you, learn more about you and your business on a deeper level, and purchase your products and services. This can all happen right on your website.
Plus, with plugins, like Wishlist member, you can turn your WordPress website into a membership hub to sell online courses and paid premium products.
A website is one of the most valuable assets you can have online because you do own it, and you can back it up. Plus, you can create blog posts, share the latest podcast episode, create sales pages to promote your products and services, and you can integrate payment processors to earn money.
All of these things make a website one of the most essential components of an online business. But it still not the most critical component.
5. Email
An email list allows you to reach out to your subscribers as often as you like until they unsubscribe. This is a huge advantage over other platforms because you can control the distribution and the reach of our messages. Another advantage, you own the list of subscribers.
Unlike social media, when you make a post, you don't really control who sees the post. The number of people who see a social media post is influenced by the algorithm and algorithms change. As I mentioned, you can increase the number of people who see a social media post by paying for it to reach more people via paid ads. This guarantees that more of our ideal audience will see the post. Social media is not quite the same as email, where when we send a message, we know most people will at least have that message delivered to their inbox.
Plus, email is one of the most measurable marketing channels available. I can spend X number dollars on growing my list, and I can track exactly how many new subscribers were added each day, week, and month. Also, I can measure the engagement of my list by how many people are opening, clicking, and the products being purchased. I can measure who purchased specific products.
Furthermore, you can back up your list.
If you had to start all over again, as long as you backed up your list, you can import it into another email provider and promote affiliate products. This way, you can still earn money while the other four online components are being set up and the audiences developed.
Many companies consider email their most profitable marketing channel.
Article continues below…
If I had to choose one asset, which would I choose?
The answer is simple. The most valuable asset you own is your customer list, followed by your email list. So, I would choose my email list (my customer segments included), then the website, a podcast, social media, and finally, the shopping cart/payment processor.
Here is why.
If I had to start over for some reason, my email list allows me to communicate with my audience. Plus, I can use my email list to build my social media channels, drive traffic to the website, and podcast once everything is setup. All I would need to do is let my subscribers know and start to rebuild those audiences. But, if you lose your list, it will take me much longer to recover and start over.
This is why the email list is the most valuable asset.
Ultimately, use all of the channels to build your business and grow your audience. But if I had only one to choose from, then the email list is what I would choose.
Your list is the most valuable business asset.
---
Are you building your email list?
Today, when it comes to building your audience one of the most profitable marketing channels is email.
According to the Direct Marketing Association, email marketing yields a 4,300% return on investment for businesses in the United States.
ExactTarget reports for every $1 spent on email marketing, the average return on investment is $44.25.
One of the most profitable ways to build your audience is to increase the size of your email list.
Discover 101 Ways to Increase The Size of Your Email List. Download the Free Report!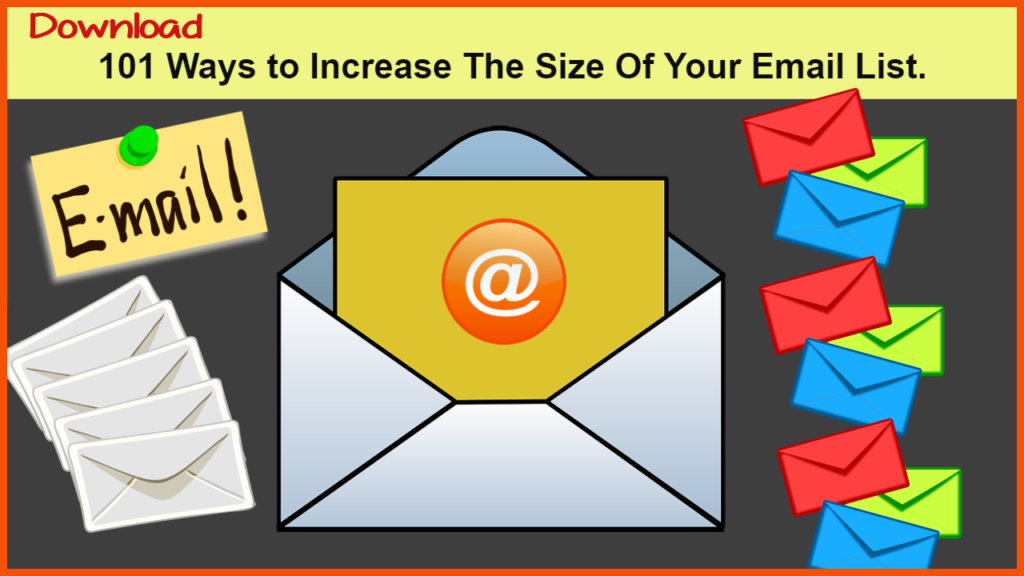 ---
This article contains affiliate links. If you click on one of the affiliate links and purchase the product, I will earn a portion of the purchase price.